1. Finishing with oval brass rings, other options are inox or stainless steel
 2. cuts to fit the shape of the vehicle
 3. Ratchet bracket for tying down the tarpaulin
 4. Pocket for the plank
 5. cut-outs for the spanners
 6. Roof provided in transparent material (white/optional yellow)
 7. Front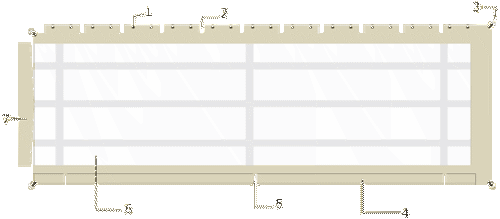 The tarpaulin is first class high-quality polyester PVC Chanta 18 (9/9 650gr/m²) available in various colours (minimum 25 colours in stock). To guarantee a longer lifespan and the highest, high-frequency welding is used in all seams.
TARMAC CH42
Tarmac tarpaulin is specially designed for the transportation of asphalt. Tarmac tarpaulin is 360g/m² and therefore twice as heavy as ordinary tarpaulin. It can withstand temperatures of up to 180°C and has excellent tear resistance. The tarpaulin remains supple even in freezing temperatures thanks to the special silicone coating. The asphalt does not stick to the material and it is therefore easy to maintain.
The insulation performance of the silicone protection prevents the asphalt from losing too much heat. The quality is preserved. The air temperature between the asphalt and the tarmac tarpaulin is 20°C higher than with normal tarpaulin. The heat is reflected, which helps to prevent crust formation.